Conversational Commerce. It's time!
"We always overestimate the change that will occur in the next two years and underestimate the change that will occur in the next ten…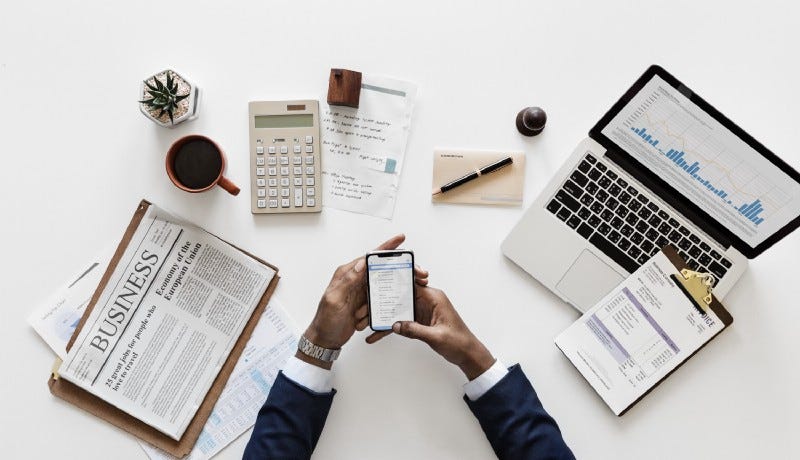 "We always overestimate the change that will occur in the next two years and underestimate the change that will occur in the next ten. Don't let yourself be lulled into inaction." ~ Bill Gates.
What really is "Conversational Commerce"? How will it affect my business? What do I need to do to get ahead of the curve? Is the customer journey on my existing commerce channels at par with the expectations of my customers?
Let's take a step back for a moment and look at the typical business environment.
Businesses invest quite a sum in infrastructure to achieve their primary objective, drive sales - the core part of commerce. That includes physical outlets/stores, human resources, mobility and advertising. Given the current trends, sales from traditional channels such as mall outlets and physical shops are quickly being overtaken by online shopping, mobile shopping and other eCommerce options. This is primarily due to changing demographics, more and more GenZ customers joining the consumer market. And general "laziness". We all want to shop in a much more convenient fashion than having to leave our places of comfort.
To compensate for the reduction of the foot traffic to their premises, businesses opt to create eCommerce websites which come with new challenges such as high cart abandonment rates and bounce rates. If the site drives traffic the business is forced to invest in more staff to respond customer queries and if this is not done right the law of diminishing returns kicks in. Customer dissatisfaction affects the business margins. Others opt to go further and buy ads from various mediums to drive traffic using strategies whose performance metrics are hard to gauge, adding to their operational expenses.
The business further proceeds to list products on various eCommerce platforms with the aim of increasing sales. What happens? The business runs the risk of brand dilution and in addition to this if they do not have critical customer data, then they cannot refine their market offerings.
How about when it comes to fulfilling orders and making the last mile deliveries of products? Well, if the 3rd party platform bungles this essential value chain service, you lose repeat business.
Technology has changed the landscape. The GenZ consumer demand a friction-less customer journey. New channels such as WhatsApp, Telegram, WeChat, Messenger, Viber etc. are proving to be the preferred medium for communication and interaction for most. Communities of users with similar interest and aspirations are forming in the millions within these ecosystems. These channels and the communities within, provide one with an almost unlimited audience and inestimable potential markets. Leverage the virality of these channels and sales go through the roof.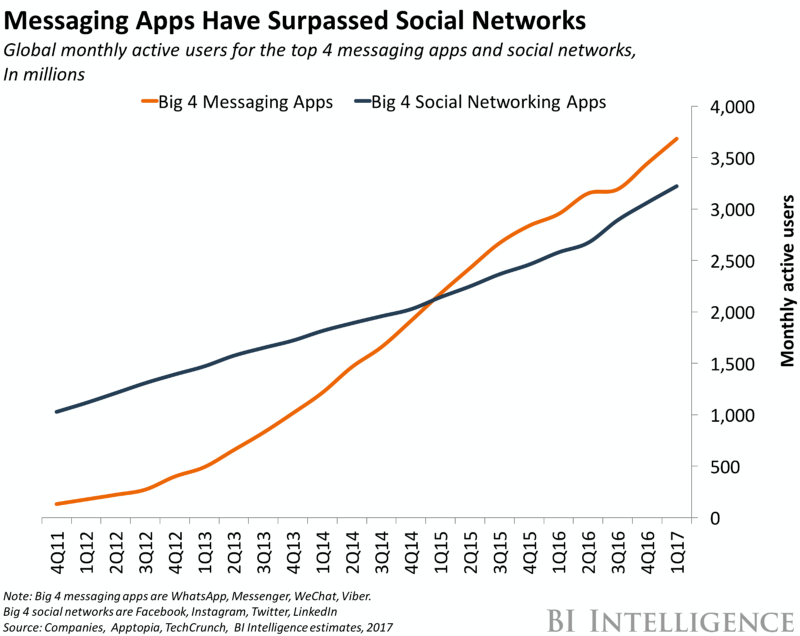 So where do we start?
What do I need to know and do to ride on this new wave that is transforming the commerce landscape?
Let's start first by looking at the most important person in this commerce value chain — The Consumer.
Trends show that the consumer's attention is shifting from the social media platforms to messaging apps. Due to an influx and bombardment of information in today's world their attention is limited. A business needs to sell in the most natural, most intuitive and friction-less way — via a conversation. Since the dawn of commerce we have been using conversations to trade. We use language to convey our needs and wants and use the same to deliver and receive feedback.
Definition: Conversational commerce is an automated technology, powered by rules and sometimes artificial intelligence, that enables online shoppers and brands to interact with one another via chat and voice interfaces.
The customer journey can be structured into conversation. Vital customer information such as phone number and location can be seamless captured in the flow. A post sale feedback, crucial to your business, can be requested as it transforms your mode of commerce to one that is driven by data rather than one that is run on intuition.
Chat-bots can be customize to reflect your brand and your process. A well-structured bot with minimal steps will assist in faster conversion of sales. With enough data, artificial intelligence can slowly be incorporated into a self-sustaining information loop. More data is gathered to improve insights for the whole business including the supply chain, inventory control and it gets more intelligent leading to more sales and more data! Bliss!
A business can always start by introducing their chat-bot to their known and trusted base of customers. The network effect kicks in and business scales.
This leads to another question. Suppose, leads and orders gush in. How does the business handle this deluge of vital information?
A back office operation to handle the volumes and stock outs is the answer to this question. Timely dashboards will be needed for timely responses to certain business metrics and KPIs that ultimately contribute to customer satisfaction.
Lets illustrate how this can be achieved via a Telegram Bot (Buy the way I love how Telegram has a very robust bot API and its constantly improving it. I see lots of potential going forward.)
First the customer finds the bot.
On entry one is prompted for one's phone number and location. The customer proactively gives you their information.

A personalized welcome message shown to the user.
Based on an entry the customer is provided inline with the product details and options.

Should he decide to buy he is taken to a payment confirmation page.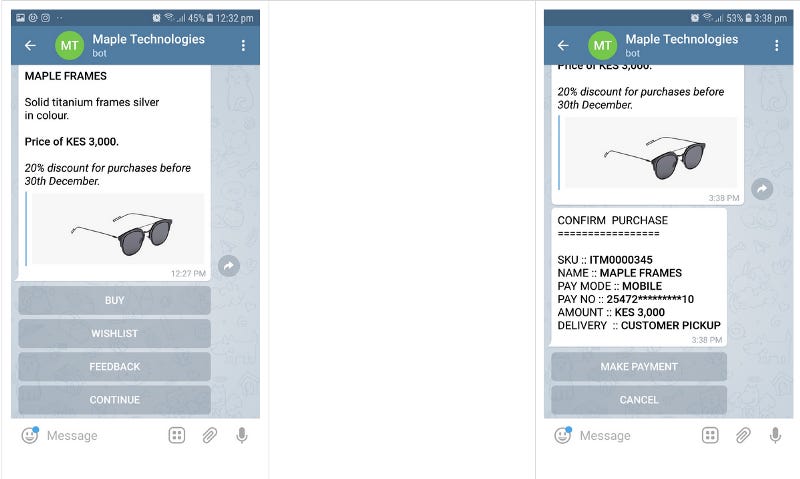 On purchase he is provided inline with options to give feedback and possibly to do a simple post sale survey.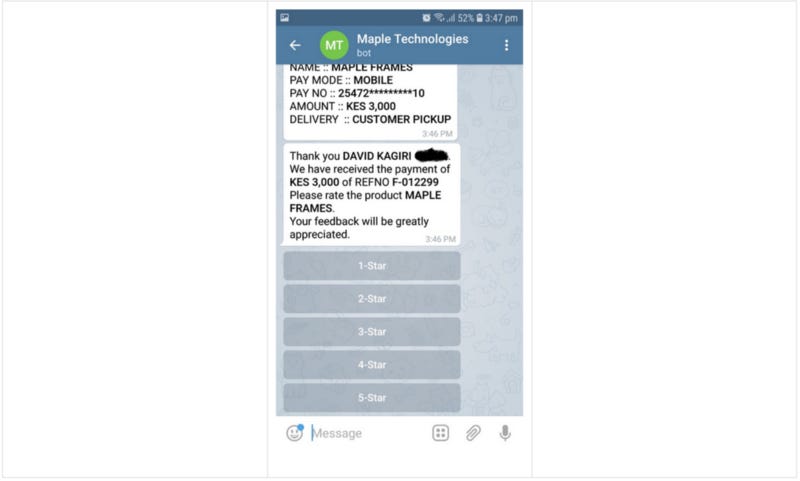 This experience provides a treasure trove of data points to the business. If well "digested" the business can pivot and respond quickly to consumer demand and market sentiments. This is the chasm that separates "growth" businesses from "stagnant" businesses.
Inventory can be kept at optimum levels to keep storage costs at a minimum including stock outs especially for seasonal sales. The permutations of business possibilities is virtually unlimited.
Do you want to adopt a Conversational Commerce strategy for your business today?
We at Maple Technologies have been operating in the commerce space for more than 8 years. We believe that we are slowly heading to an age conversational commerce powered by neural nets. We will set up the inventory control, customer management, payment integration , customized dashboards, data pivots and all. Just sign up using our bot or go to our site and we will get in touch shortly.
Thank you for taking the time to read this article.
If you are interested in chatting with me, reach out here (or email me at david@maple.co.ke). I would love to hear from you.
We will always keep moving and doing amazing things in this space.
Be inspired and start experimenting.